A Message from State Treasurer Michael L. Fitzgerald
Plan now for their tomorrow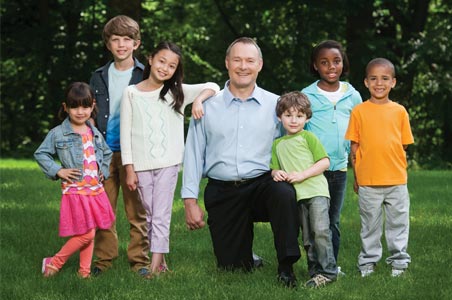 Dear Friends,
We all know kids just want to be kids—free to dream and play make-believe. You enjoy watching them explore their imaginations and discover the possibilities that life offers. And in your heart, you would love nothing more than to make sure they have as many opportunities to succeed as possible.
One way to set them up for success is to save for their higher education—college, vocational school or technical school—through a College Savings Iowa 529 Plan account. With our plan, you can:
Save on taxes
Withdrawals are free from both federal and Iowa state income taxes when used to pay for qualified higher-education expenses.*
Iowa taxpayers also receive deductions from their state income tax for each account they own and contribute to.**
Learn more about College Savings Iowa's tax benefits
Invest in a diverse portfolio
We offer 14 investment options—4 age-based savings tracks and 10 individual portfolios—with a low expense ratio of 0.19%. You pay only $1.90 in fees for every $1,000 you invest in our plan.
Our investments are designed exclusively for College Savings Iowa by Vanguard.
See our age-based savings tracks
Manage your account online
Open an account, make contributions and withdrawals, view your statements and more—all from this site.
Find out how to open an account
As you browse our site, I encourage you to learn about everything the College Savings Iowa 529 Plan has to offer you and your student. You can also find details in the Program Description.
See highlights of the College Savings Iowa 529 Plan
Read the Program Description P D F document opens in a new window
If you have any questions, we are here to help.
Thank you for your interest. I hope you and your family choose College Savings Iowa to help a child in your life take the leap from imagining to achieving.
Sincerely,

Michael L. Fitzgerald
Treasurer of State